Stories don't always go as we think they might. I had hoped to write an update article on my friend Debbie, rejoicing in her miraculous healing. Instead, I'm attempting to communicate a different reality.
She is with Jesus now. She passed away. She's gone. She's at rest. She's in heaven. She's fully healed. There are many phrases we use to communicate a difficult part of life: death has come.
When I think of Debbie, I like to say, "She finished her race well."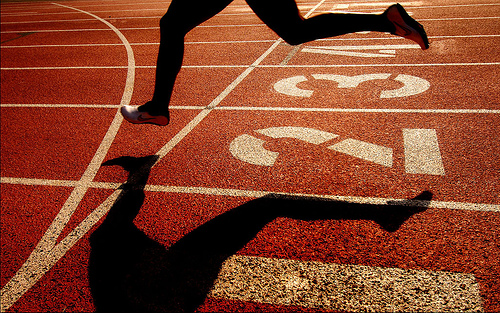 I picture her sprinting across a finish line, with long hair flowing behind her, laughing with joy and eyes shining with delight, straight into the arms of Jesus. That is the image I hold in my mind.
Perhaps I like to think of her this way because I watched my young, energetic, beautiful friend age before my eyes. The steroids caused her face and body to swell. The tumors in her brain made her motor function weaken to the point that she was confined to a wheelchair. She experienced a great deal of pain and discomfort that made daily life a struggle. Remembering all she suffered still fills my soul with grief and makes my eyes overflow with tears.
However, I also remember that as Debbie's body weakened, the Spirit inside her seemed more alive. Just as a candle shines more brightly in the midst of a dark room, the life of Jesus within her shone all the more as her body failed. She was fully alive, even as her body was wasting away.
A few months before she died, Debbie was still able to come to Bible study. We made a point of asking her what she most wanted to study that semester. She chose the book of Acts, so she could learn how the gospel went forth in the early church. I remember with such clarity the last time she was able to be with us. We were in Acts 10, studying the story of Cornelius and all the ways God worked to bring the gospel to the Gentiles.
She looked up from her Bible and said with such amazement, "Look at all God did to orchestrate Cornelius coming to faith!" Almost as an afterthought, she reflected, "And I had to get cancer to come to faith." Without a hint of bitterness, she completed her thought: "But it's all been worth it. If I had to get cancer to know Jesus, then that is the only thing that matters. I have the only thing I need from this life." Dying has the propensity to bring such clarity and precision to our view of life.
At another point that morning, she looked up at us all and exclaimed, "Ladies, this is what we have to do. We have to tell people about Jesus. Just look at me, I was one of those people, sitting in the pews, but I didn't really know him. We have to tell people that they can have a real, living relationship with Jesus."
As she was dying, Debbie was teaching me how to live. Love Jesus. Love others enough to share Jesus with them. Our mission is so simple, but it often gets lost in the busyness of living.
When Bible study began again this year, I knew it would be difficult. Debbie wouldn't be there. On the way to the study that morning, tears filled my eyes and my heart was overwhelmed. It wasn't just Debbie I was missing, it was that our entire Bible study would be different without her there. C. S. Lewis explained it so well:
In each of my friends there is something that only some other friend can fully bring out. By myself I am not large enough to call the whole man into activity; I want other lights than my own to show all his facets. Now that Charles is dead, I shall never again see Ronald's reaction to a specifically Caroline joke. Far from having more of Ronald, having him "to myself" now that Charles is away, I have less of Ronald. Hence true Friendship is the least jealous of loves. Two friends delight to be joined by a third, and three by a fourth, if only the newcomer is qualified to become a real friend.
Always the planner, Debbie texted me several months before her death, asking me to speak at her funeral. I wrote this poem for her, celebrating her life and mourning her death, trying to put to words all that my soul longed to speak.
A Song for Debbie
The clouds have come, the storm winds blow,
I realize in my heart, it is time for you to go.
Release, release, release, cries my soul,
Abandon these shadows and become whole.
Walk in newness, with all made right,
In safe pasture where there is no night.
Pain be gone and with it tears,
No more mourning, no more fears.
Jesus is there, waiting for you,
Drying your eyes, making all things new.
Yet, I must walk in these Shadow Lands,
Missing my friend, trusting his plans.
In this darkness am I, yet not alone,
Waiting for the day Christ calls me home.
For then together, all we will be,
Laughing and rejoicing, able to see.
That all he has done has been done in love
His plans make sense when seen from above.
Until that reunion day so sweet,
We must carry on, being his hands, his feet.
Going to the places you wanted to go,
Spreading his gospel, letting people know:
Death does not win, hope is real.
In the wounds of Christ, our God will heal.
So today I mourn, but mourn in hope,
Asking for faith to give my vision broader scope.
On this side of eternity, I miss you my friend,
Sweet Debbie, may you rest in joy without end.